Qlik Sense
Agent of transformation
Qlik Sense sets the benchmark for a new generation of analytics. With its one-of-a-kind associative analytics engine, sophisticated AI, and scalable multi-cloud architecture, you can empower everyone in your organization to make better decisions daily, creating a truly data-driven enterprise.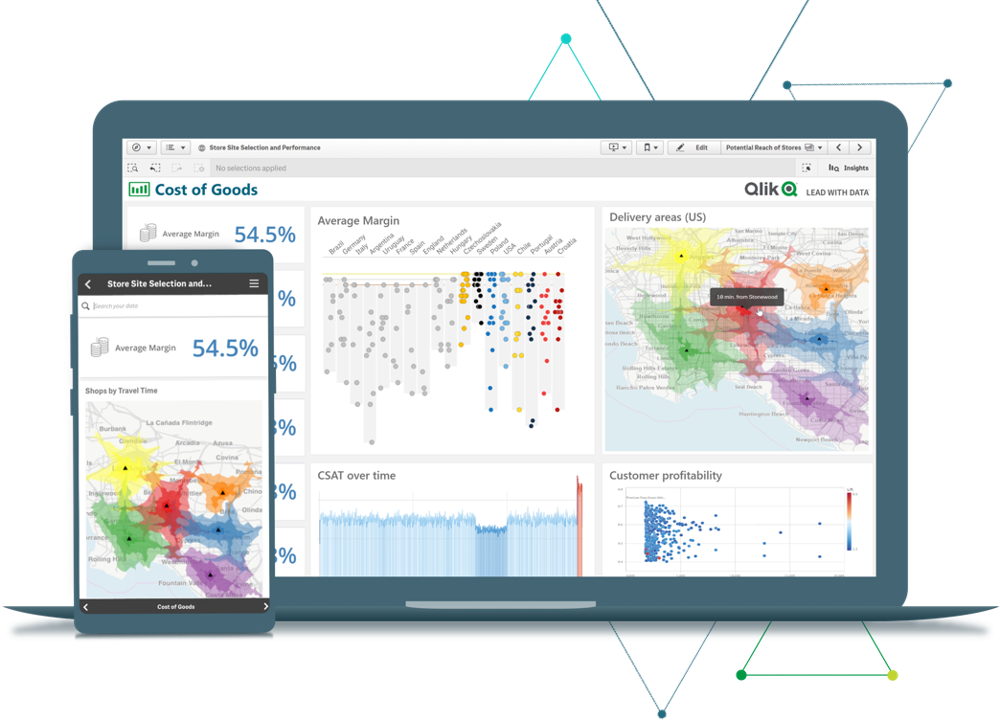 Put world-class, modern, and meaningful analytics in everyone's hands
Create a data literate workforce with AI and conversational interatction.
Deploy your way - from enterprise SaaS to your cloud of choice
Qlik Sense is for all of us - executives, decision-makers, analysts... you. Enable any BI use case and let users freely search and explore to uncover insights they won't find with query-based BI tools
Augmented intelligence instantly raises the data literacy of every user, suggesting insights and automating processes while understanding your questions and answering in natural language
With a true multi-cloud architecture, deploy any combination of Saas, on-premise, and private cloud. Scale confidently with enterprise-class data integration, open APIs, and flexible governance
Modern analytics for the enterprise.
Deliver an amazing analytics experience that's built to transform your entire business

Qlik indexes and understands relationships in your data so you can explore feely in any direction. It helps reveal insights you can't see with query-based BI tools.

Easily combine and load data, create sart visualisations, and drag and drop to build rich analytics apps accelerated by suggestions and automation from AI.

Augmented intelligence enhances human intuition throughout Qlik Sense with suggested insights, automated processes, and natural language interation.

Stay productive online or offline with fully interactive mobile analytics. Make discoveries, easily collaborate, and take action with data - anywhere, anytime.

Develop any analytics you can imagine with a complete set of open APIs and bring them into any app or project with powerful embedded analytic support.

Easily combine SaaS, hybrid multi-cloud, and on-premise deployment options with the industry's only true multi-cloud architecture. The choice is yours.