Integrated Planning
Unify Planning Across Your Organisation
How a proactive strategy of 'think big, start small, and deliver quickly' combined with integrated planning is the right approach to help the Office of the CFO successfully navigate Digital Transformation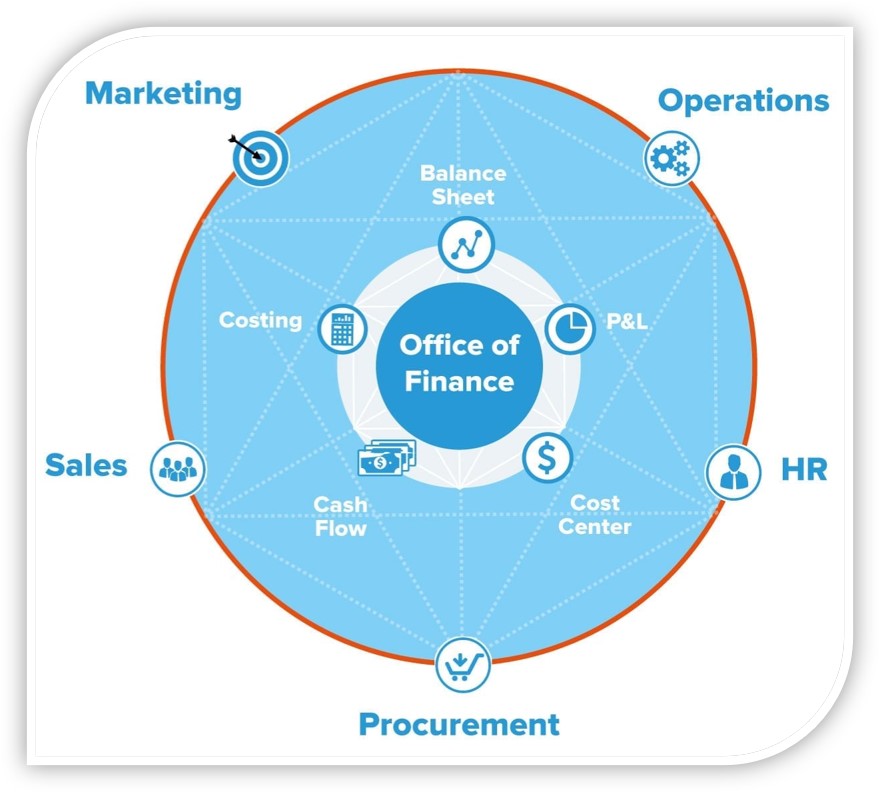 What do we mean by "Integrated Planning"?
The simple explanation is that integrated planning aligns departments. It creates an environment where your forecasts and budgets from your Revenue, Sales, Production, HR & Staffing Models use drivers that automatically tie together to make-up your PNL, Balance Sheet and Cashflow with simplicity and automation.
For example, your sales manager enters forecasts for products and services in the Sales Model. The forecast can be fully driver-based so that instead of entering a dollar value you can set up business rules so that the forecast is entered in any unit of measure, such as tonnes, hours, FTE, or anything you like. Once the forecast is complete, Jedox then translates the forecast to a dollar value using business rules defined by you and breaks it down into the appropriate GL accounts. The sales forecast can automatically update the PNL, Balance Sheet, and Cashflow in one simple step. Business rules define how the different cost or profit centres roll up to the company total.  This happens automatically and on-the-fly without manual intervention. There can be rules set in place that require each cost centre manager (or likewise) to have to be approved before it is allowed to be pushed into the PNL and to roll-up into the Forecast at the top level.
Integrated planning aligns departments. It improves compliance and controls around the planning process. Integrated planning links financial targets to operational drivers − the activities that each department actually does day-to-day. Users compare actuals with plan, and drill-down below the KPIs to understand 'why' it is happening.
Every department has a small number of advanced Excel users; these users can easily become Jedox 'Power Users' as the look and feel of Jedox Web and it's Excel Add-on mirror how end-users operate Jedox. You want to empower these people. Because departmental processes can change rapidly, your planning platform must allow business users to securely access their own data and define KPIs quickly and easily on their own.
The Benefits of Integrated Planning
Combining performance monitoring with integrated planning means you can rapidly take action. Planning is not rigid. You need self-service modeling to customize planning rules and adjust to respond to growth and change. Jedox allows organisations to create multiple versions and scenarios to better help organisations quickly change their "plan" as unexpected situations may arise. A prime example of this would be the current unprecedented pandemic and its interruption to a vast majority of businesses.  Our customers were able to generate many different versions and "what-if" scenarios based on what the effects will be on the business across production and sales, staffing adjustments, etc. This enabled them to prepare for possible forecast changes as they navigate through possible financial planning impacts on the business in the coming months and/or years to come.
Breaking Down the Silos
Create models that link data across all departments
Jedox is a collaborative platform for enterprise planning, data analytics, and reporting. This helps align all departments and divisions to your corporate strategy and objectives. With Jedox, you can link financial targets to operational drivers and other day-to-day activities in each department. Business users can compare actual performance to plan data and drill down to the details to see 'why' it is happening. By combining performance monitoring with integrated business planning, your company stays agile and ready for action.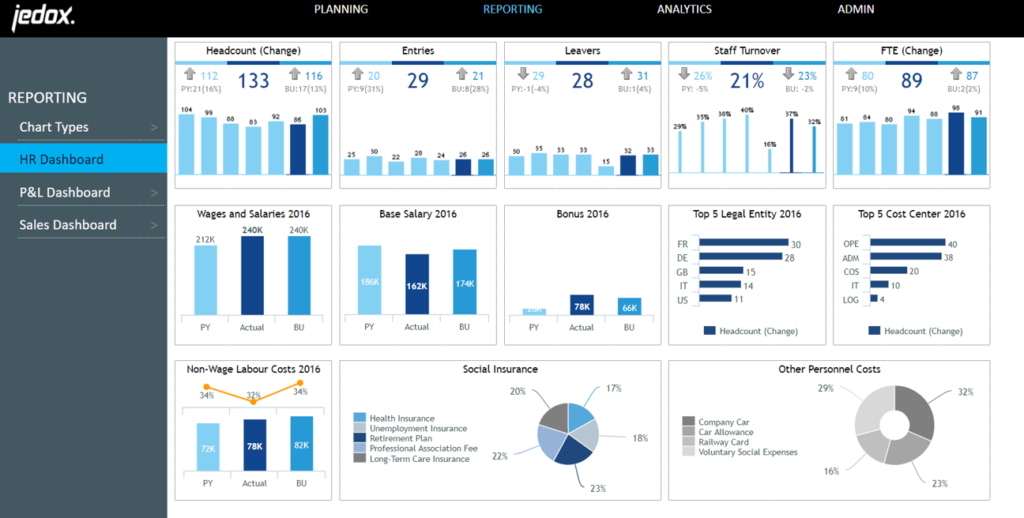 Driver-Based Planning
Prepare your performance management for the future
Jedox utilizes advanced in-memory modelling to instantly calculate and consolidate data. You can create driver-based models and immediately run what-if scenarios with sophisticated trend analysis in Jedox. With its multi-dimensional analytics engine, Jedox enables flexible top-down and bottom-up budgeting which enables your organisation to successfully plan ahead with ease.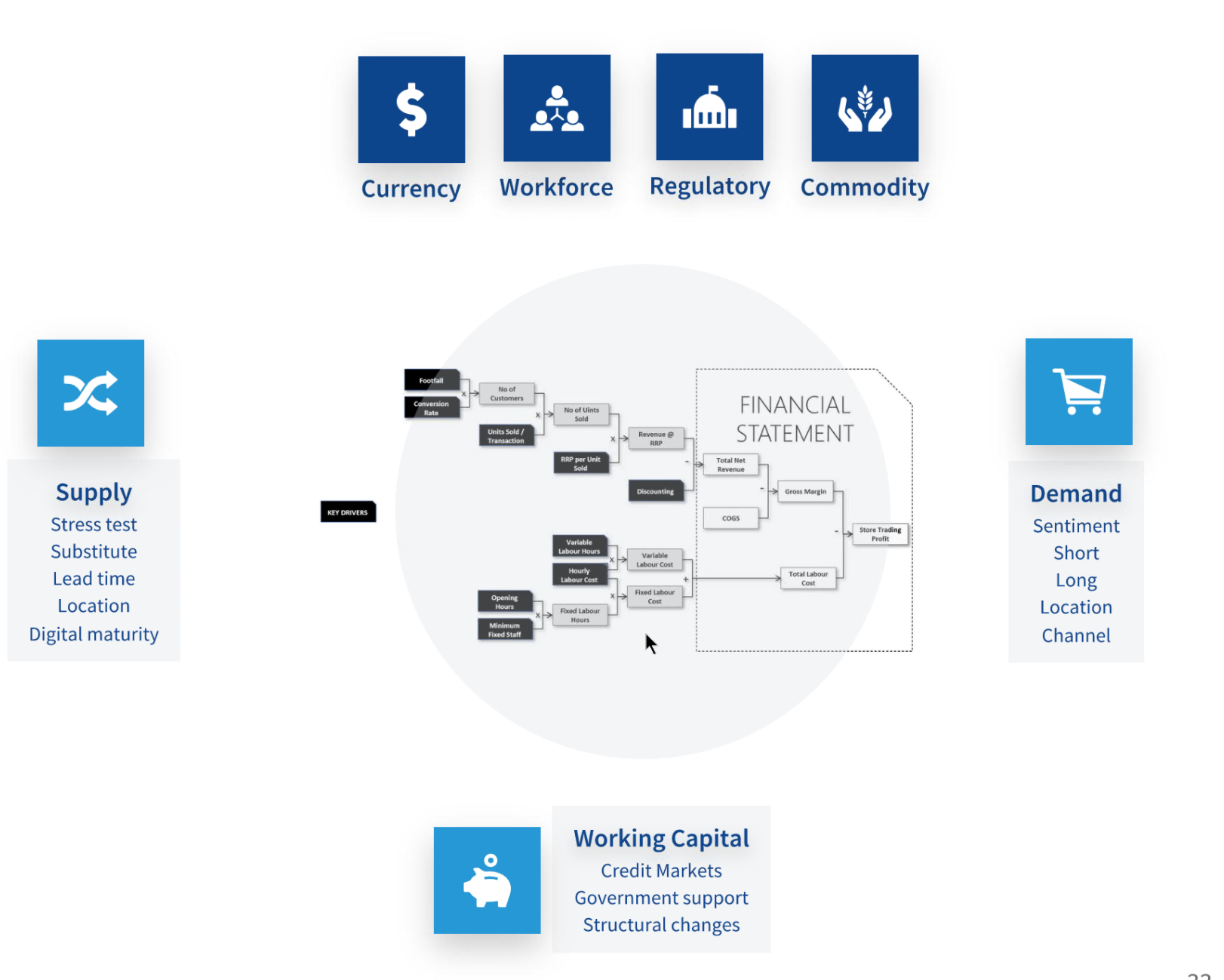 Integrated Planning with Jedox Delivers:
* Improved collaboration across the teams and entities in your organisation
*More accurate forecasts and what-if analytics
*Faster insights to all stakeholders to align operational planning with strategic goals
*Better, data-driven decisions based on high-level and detailed plan and actuals
*Simpler planning that saves time and eliminates manual reconciliation
*Greater process visibility and transparency that strengthens risk management
*Single version of the truth backed by transparent methodologies and processes
*Predictive analytics and planning (e.g. predictive revenue analysis), including integration of "R" language for statistical computing
Webinar: Integrated Enterprise Planning with Jedox