Jedox
Simplify Planning, Analytics and Reporting
Jedox EPM software makes planning and Enterprise Performance Management seamless - in every organisation, on every device, wherever the data resides. Discover how Jedox can help optimise business processes, boost data quality, and slash planning cycles across your organisation.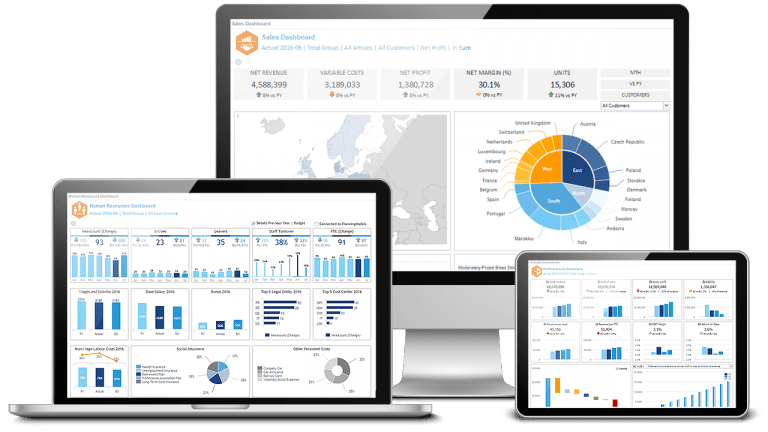 What is Planning, Budgeting & Forecasting?
Planning, budgeting and forecasting are three key pillars of Interprise Performance Management (EPM). The purpose of planning, budgeting and forecasting is to translate strategy into execution via long-term or mid-term plans as well as short-term budgets and forecasts.
Planning
Controlling uses planning to determine how the company's goals are to be achieved. In addition, it ensures that the overall planning and the sub-plans of all individual business areas are consistent and free of contradictions. A top-down planning approach defines the strategic goals of the business and high-level activities required to achieve them.
Budgeting
Budgeting is when controlling translates planning into financial values. A budget is a goal-oriented plan formulated in terms of value. Within the plan, a certain time period with a certain degree of commitment is predefined. A budget allocates resources aligned to meet strategic goals and targets.
Forecasting
A forecast tracks the expected performance of the business so that timely decisions can be made to respond to shortfalls against targets or maximize opportunities. Forecasting goes beyond standard forecasts because controlling uses both financial and non-financial information as well as simulation and scenario considerations.
Planning, budgeting and forecasting processes are typically managed by financial controllers or the financial planning & analysis (FP&A) function in the office of the CFO. Orchestrated by finance, PB&F involves multiple operational business functions such as sales, HR and supply chain to ensure that strategic objectives are met and financial targets are reached.



A connected data foundation for planning, budgeting and forecasting across finance, sales, HR and other business functions provides greater consistency and transparency for truly integrated performance management.
Increase automation of workflows, analysis and reporting and accelerate planning and decision-making. AI-powered recommendations drive higher forecast frequency, accuracy, and granularity.
Give your finance and business users the freedom to build financial models and reports the way they want. Intuitive, self-service planning creates a stronger link between finance and the rest of the business for better results.
Jedox: Best-in-Class Integrated Enterprise Planning Solutions

Jedox combines reporting and planning, so you can immediately compare your targets to actual performance. You can confidently analyze and report data at any level, right down to underlying business drivers and transactions. This means you dramatically decrease the time-to-close for reporting. You can combine budgets with historical data, with instant variance analysis to build a financial narrative.

Jedox offers a fast and easy start for planning with pre-built application models that can be configured by users to meet their needs. Jedox Models deliver best-practice building blocks to kick-start the development of planning applications and provide a solid foundation for growth. Jedox Models can be combined to develop an integrated planning model because they are built on common modeling principles and come with pre-defined linkages.

Planning processes are volatile. Therefore, Jedox utilizes advanced in-memory modelling to instantly calculate and consolidate data. You can create driver-based models and immediately run what- if scenarios with sophisticated trend analysis in Jedox. This helps Finance move from descriptive analytics (describing the past) to predictive and prescriptive analytics.

Mobility is enabling new business collaboration. With Jedox, you can collect and validate plan data from web and mobile devices while using dashboards to visualize forecasts in real-time. This means there is no need to distribute, collect, and process individual spreadsheets. Status monitors and workflow templates increase transparency.

Jedox has inbuilt integration. Pre-defined connectors easily ingest data from your CRM, ERP, marketing, and other operational systems – whether on premises or in the cloud. This automated data extraction increases both speed and accuracy.

Jedox supports data discovery to corporate planning in one unified solution. Leverage consistent, common hierarchies, business rules, and data across all reporting, planning, and analytic activities. Any changes to your organizational structure are instantly available on any live Jedox report, dashboard, or planning template – whether in PowerPoint, Word, Excel, the web, or mobile devices.
Jedox in 150 Seconds - Making Enterprise Performance Management Seamless